Letter to Unitholders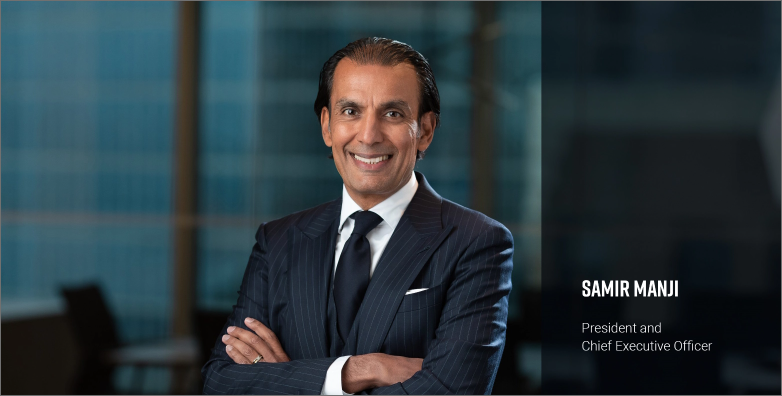 This will be the first time I am writing to our valued unitholders since March 10, 2021, when we announced our Business Transformation Plan, which set out our new vision and strategy for Artis. Since that time, we have been busy at work, focusing on executing in the early days of our plan to build significant value for our owners. We have received a diverse range of comments and questions related to our new vision and strategy. In this letter, I will provide further clarity and context that will enable our owners to understand what we are doing and, more importantly, why we are doing it. This is something I plan to continue doing annually.
Our March 2021 announcement highlighted our focus on growing our net asset value ("NAV") per unit and distributions through value investing. There are three pillars to this strategy: 1) strengthening the balance sheet through accretive dispositions, disciplined unit buybacks and debt reduction; 2) driving organic growth through development of our assets; and 3) investing in mispriced, misunderstood, or mismanaged assets or companies, including REITs. In each aspect of this strategy, we have exceeded expectations over the past 12 months.
We closed 2021 with a NAV per unit of $17.37, representing an increase of $2.34 or 16% over the 2020 year‐end NAV per unit of $15.03. Multiple factors contributed to this growth, including the monetization of certain assets above their International Financial Reporting Standards ("IFRS") values, the increase in overall value of our portfolio of properties and the repurchasing of units through our normal course issuer bid. When we include the regular monthly distributions that we paid to unitholders in 2021 (totalling $0.5927 per unit for the year), the total increase relative to our 2020 year‐end NAV was $2.93, which translates to a total return of 20%. This calculation does not include the special cash (and non‐cash) $0.32 per unit distribution that was declared, as this is not a normal, recurring distribution – rather, it was directly related to potential taxes unitholders may have to pay because of asset sales Artis completed last year. While I am very pleased with the overall return we achieved, we cannot promise or guarantee that we will be able to repeat this every year. What we will commit to is to do our best to make sound investment and capital allocation decisions so that, in the long term, we put ourselves in the best position possible to deliver strong returns to our owners. At the same time, we recognize our units continue to trade at a significant discount to our NAV. Our goal is to narrow and ultimately close this gap.
The principle of intrinsic value, the determination of value based on the measure of what an asset or collection of assets is truly worth rather than their trading market price, is crucial to understanding value investing. This principle is contrary to the efficient market hypothesis, which states that markets are efficient and that stocks always trade at their fair value. Warren Buffett, the most famous value investor in modern times, demonstrated that the efficient market hypothesis is not realistic. He once said: "In the short run, the market is a voting machine. In the long run, it's a weighing machine." Applying this philosophy, our value-investing strategy will focus on making NAV per unit "heavier" (in other words, more valuable!) over time. That is our focus, plain and simple – to build the value of our company through disciplined and thoughtful value investing, using principles that other value investors have proven out and that we believe can be applied in our business and industry. When we do so successfully, we will grow our NAV per unit on a sustainable basis.
Our Business Transformation Plan announced last March highlighted the idea of investing in other companies or REITs as part of a broader and more diverse investment strategy. Many were surprised when we announced this plan. When we invest in other companies or REITs, we are buying a piece of that business ‐ or, put a different way, a piece of the real estate portfolio owned by that company or REIT. We would do so because we believe the intrinsic value of that business or portfolio is higher than the market is giving it credit for and, relative to other investment or capital allocation opportunities, we believe the investment will produce a better return on our capital in the long run. For the purposes of identifying and underwriting public securities investment opportunities, we have established a formal relationship with Sandpiper Group ("Sandpiper"), a company owned by my family. We have disclosed this relationship and will continue to provide transparency to our owners, something that is very important to me. The team at Sandpiper has developed this subject matter expertise and in establishing this relationship between Artis and Sandpiper, the objective is very simple – to harness that expertise for the benefit of Artis' owners. This dynamic was instrumental in our first significant investment in a public entity, Cominar, that began last summer. This culminated in Artis (and Sandpiper) joining hands with two other partners to establish a consortium that was the successful bidder to acquire and privatize Cominar. I will elaborate on this further, but suffice it to say, if not for this unique relationship that Artis and Sandpiper had established, the opportunity to capitalize on the Cominar acquisition would not have materialized.
Our plan for Artis also includes strengthening our balance sheet, which we achieved in 2021. This was driven by the sale of our GTA industrial portfolio for a price well above the IFRS (or estimated) value at that time. This was a product of a carefully choreographed auction process that included a significant number of buyers prepared to bid a price that exceeded our expectations. In achieving this sale at a price over $700 million, we were able to reduce our debt and increase our liquidity which, by the end of the year, stood at $724.9 million. Liquidity represents the amount of capital we have to invest in or allocate to new investments or existing properties. Our goal is to always have a reasonable level of liquidity. This allows us to have flexibility at all times to weather unexpected headwinds while also putting us in a position to capitalize on situations when significant value opportunities become available.
Year In Review
As I noted above, effective capital allocation is a foundational component of our new vision and strategy. The monetization of select assets in a measured, patient and opportunistic manner has been, and will continue to be, essential to providing us with the resources to meaningfully reduce debt and to execute on our value‐investing strategies. During the year, we sold 41 assets for an aggregate sale price of $858.6 million. These dispositions included the previously mentioned sale of our GTA industrial portfolio, which was a milestone transaction for Artis. We also exited the Calgary office market with the sale of our remaining Calgary office properties. The proceeds from divestitures provided us with the financial flexibility to make significant progress in the execution of our strategy.
Below I have summarized a few of our notable 2021 investments and capital allocation initiatives.
Privatization of Cominar
On October 25, 2021, we announced our participation in an investor group formed to acquire Cominar. This transaction is reflective of the type of opportunity we hope to allocate capital to in the future. In 2020, Cominar's board announced that it was undertaking a strategic review. We believed the units of Cominar were trading for much less than their intrinsic value, so by early summer, with the GTA industrial portfolio sale under our belt, we began acquiring Cominar units. In late July, my friend Jonathan Wener, the founder of Canderel, called me and asked if we would be interested in joining Canderel and another partner to buy Cominar. Given the extensive underwriting Sandpiper had already done and shared with Artis' Investment Committee and Board, we were able to engage in the discussions swiftly and with confidence. When Jonathan told me the other partner was FrontFour Capital, it made the decision to engage even easier, as I had worked with one of the principals at FrontFour previously and knew that their team was smart and trustworthy – just like the team at Canderel.
Canderel and FrontFour were setting up a limited partnership to acquire Cominar. In this type of structure, a limited partner is an investor that provides the equity for the investment but is not a day-to-day manager of the business. The general partner, on the other hand, oversees the business and is active in the daily operations of the company. While Canderel and FrontFour had other equity investors interested in joining (or already committed to) the opportunity, we successfully negotiated for Artis and Sandpiper to not only invest as limited partners for a significant portion of the overall equity, but also to participate alongside Canderel and FrontFour as general partners, with Artis and Sandpiper together receiving a one-third share of the general partnership and four of nine board seats. This means that Artis and Sandpiper will also share one-third of any and all profits and fees realized by the general partners. Artis and Sandpiper will share all general partner profits and fees equally and will each have two representatives on the board.
Together as a consortium, we acquired Cominar for $11.75 per unit – a price we believe is significantly below the intrinsic value of the underlying assets acquired. We are expecting to generate very strong returns on the capital we have committed to this investment. In discussions with the Artis Investment Committee and Board, it was agreed that Artis and Sandpiper together would commit approximately 49% of the equity in the consortium, with Artis taking two-thirds of this and Sandpiper taking the remaining one-third. Ultimately, Artis contributed $112 million to acquire common equity units, which represented approximately 33% of the total common equity units in the newly formed entity, and was also successful in securing an additional $100 million investment in the overall capital structure of the consortium in the form of junior preferred units that will pay a very attractive rate of 18% per annum. Artis' independent Trustees sought to have Artis take the full amount of the junior preferred units and Sandpiper was agreeable to that arrangement. Interestingly, after the announcement last October, we received a number of inbound calls from other investors who asked if they could participate in the $100 million junior preferred unit investment. Of course, we said no – this will be for the sole and full benefit of Artis' owners. The ultimate outcome of this investment remains to be seen; however, focusing again on the principle of intrinsic value, we know that Cominar had previously disclosed an IFRS value of over $15.00 per unit. In simple terms, IFRS value represents an estimate of fair market value. We agree with this assessment and expect that our investment provides for significant upside and profit for Artis' unitholders.
Normal Course Issuer Bid ("NCIB")
A normal course issuer bid, also known as an NCIB, can be a very powerful tool to enhance value for owners. In simple terms, by reducing the number of units outstanding it allows each owner to own more of the company (or in our case, REIT) without having to invest any additional money. An NCIB can also enhance NAV, or intrinsic value per unit, as buying back units for a price lower than the in‐place existing NAV results in fewer units outstanding and, therefore, increases the NAV on the remaining units. During the term of our NCIB that expired on December 16, 2021, we purchased 10,160,396 common units at a weighted‐average price of $11.26, representing the maximum number of units allowable under the applicable term. The NCIB was renewed on December 17, 2021, and during the remainder of the year, we acquired an additional 1,018,968 common units at a weighted average price of $11.61, well below the year‐end NAV per unit of $17.37. We will not hesitate to continue using the NCIB whenever our units trade at a significant discount to our NAV. This is both a prudent capital allocation decision and one that comes with low risk to our owners, as we are buying our own units at a substantial discount.
Development Projects
Creating value for Artis' unitholders through development projects has been a sound strategy to date ‐ especially when it comes to industrial developments. We are approaching the completion of our fifth and final phase of Park 8Ninety in Houston, Texas. This final phase, which we own 95% of, will comprise approximately 675,000 square feet of additional industrial space to add to our existing 1,120,414 square feet in the first four phases. We are also making excellent progress on Park Lucero East, an industrial development project in Phoenix, Arizona, that we have both a 10% ownership interest in and also a lucrative development management contract that will reward us for the value creation we anticipate achieving on completion. In 2021, we acquired two parcels of industrial development land in Minneapolis, Minnesota, and began construction on the first of two phases. This project, Blaine 35, is expected to total 317,400 square feet upon completion. With all of our industrial developments, we are anticipating achieving significant value creation, as we are building these projects at a cost well below what we believe they will be worth once completed. Finally, on the development front, we have made significant progress on the development of 300 Main, a 40‐storey commercial and residential development project in Winnipeg, Manitoba, with pre-leasing of the first 20 floors of residential apartments under way.
Purchases of Equity Securities
As noted earlier, an integral component of our Business Transformation Plan is to focus on value investing by identifying real estate opportunities that are mispriced, misunderstood or mismanaged. This includes investing in public securities where there can sometimes be a significant disconnect between the value the market gives a company or REIT and the true underlying net asset value per share/unit that the company/REIT is worth. In the current environment where there continues to be inflationary pressure (I.e., values are going up) in the private real estate transaction environment, I believe that one of the best ways for Artis to invest some of its capital is in public companies or REITs. There are some companies or REITs that have excellent properties in strong markets that we would love to own directly and an indirect investment in their public shares or units is a different way for us to achieve an ownership interest. The best part is that we get to do so at a discount to what it would ultimately cost us to buy these properties directly – and sometimes this discount can be significant. Generally speaking, we will not disclose the name of a company or REIT as we are buying the shares/units in the market. Some have suggested that we are not being transparent; however, they know all too well that it is not in our interest to tell other people what we are doing until we have completed acquiring our desired ownership position, unless we are required to disclose earlier for regulatory compliance. Sometimes disclosing this information will lead to the price of that company/REIT going up, which would mean that it costs Artis' owners more to make additional investment. As we move forward and begin disclosing these names, we will also use this annual letter as an opportunity to provide more thoughts, commentary and updates on the different investments we own.
During 2021, we also began accumulating a position in Dream Office Real Estate Investment Trust ("Dream") which culminated in an announcement subsequent to the end of the year that we, together with our joint actors, now have a 10% ownership position in Dream. We will continue to seek out similar, unique opportunities that capitalize on mispricing and valuation inefficiencies that exist in the public real estate markets.
Core Long-Term Real Estate Holdings
While we sold a number of properties last year and, as detailed later in this letter, will sell additional properties in 2022, we will continue to own, for the long term, a core portfolio of assets in key markets that we wish to remain invested in. These core properties are expected to: (i) generate strong income and cash flow for Artis and its owners, (ii) produce healthy rental rate growth and corresponding bottom line performance, and (iii) continue to perform well. As a result, from a capital allocation standpoint, we remain committed to maintaining a meaningful allocation of our capital to direct, income producing real estate that we own.
Balance Sheet and Liquidity
As noted earlier, one of our key long‐term objectives is to have lower leverage, meaning that the total amount of money we have borrowed as a percentage of our overall assets should be lower than it has been historically. At times in the past, our leverage has been over 50% of the value of our assets. Our goal was to reduce this leverage and we were successful in doing so during 2021. By the end of the year, our debt to gross book value (the estimated value of our assets) was 42.9%, compared to 49.3% at the start of the year. While this ratio may fluctuate due to timing of dispositions, we would like to keep our overall borrowing below approximately 45% and, if possible, reduce it even further to below 40%.
The Road Ahead
We expect 2022 to be another busy year as we continue to execute on our vision and strategy. Several aspects of that strategy are already in motion and, over the balance of 2022, we will continue to carve our path to becoming a best‐in‐class organization by focusing our efforts on allocating capital to the highest and best return opportunities that maximize value for our owners.
Focus on Key Performance Indicators ("KPIs")
Our plan for 2022 includes monetizing over $500 million of assets in several Canadian and U.S. markets. We will use disposition proceeds to pay down debt further and to reallocate some of the capital into initiatives that we believe will achieve the highest possible return, ultimately contributing to our most important objective, growing NAV per unit. Our improved liquidity position will also enable us to capitalize on opportunities that surface unexpectedly or other avenues we identify to move our strategy forward.
Drive Organic Growth
Our management team will continue to look for ways to improve operating efficiencies across our existing portfolio of assets, while pushing up lease rates and occupancy. These efforts will maximize net operating income ("NOI"), which drives funds from operations ("FFO") and adjusted funds from operations ("AFFO") growth and ultimately leads to value appreciation and growth in NAV per unit.
We have a robust pipeline of industrial development projects under way that we expect will be worth much more upon completion than what it cost us to build. In 2022, several of these projects which we highlighted earlier will achieve substantial completion, including Blaine 35 Phase I in Minneapolis, Park 8Ninety Phase V in Houston and Park Lucero East in Phoenix. We are well on our way to fully leasing these assets prior to delivery to the market and we will continue to focus our efforts on maximizing value through lease‐up. Similarly, 2022 will be a milestone year for 300 Main in Winnipeg, with Earls restaurant opening on the main floor and delivery of the first 20 of 40 floors of rental apartment units to the market. These developments result in the creation of new NOI for our portfolio and will ultimately increase cashflow, FFO and AFFO. The difference between development cost and market value for each of these projects creates NAV per unit growth and instant value creation for our unitholders. As we move forward, we will continue to explore opportunities to add additional projects to our development pipeline.
Environmental, Social and Governance ("ESG")
In 2022, our newly formed ESG Committee, with the oversight of the Board, will continue to push forward on new ESG initiatives. We will actively monitor energy consumption and work with our operations team to seek out new ways to be more energy efficient across our portfolio, while reviewing opportunities to achieve or improve LEED certification for our properties. We are creating a tenant portal that will enhance tenant engagement, including an avenue to have tenants participate in our ESG initiatives and best practices.
We have an excellent team with a strong work ethic at Artis. We are committed to maintaining and strengthening a culture that promotes diversity, equity and inclusion. We will continue to support our employees in their career objectives, while creating an environment that fosters community involvement and social awareness.
Capital Market Investments
Our participation in the privatization of Cominar was the first major capital allocation exercise as part of our strategy of being a value investor in the public real estate space. Our investment in Dream Office represents another important step in our capital markets activities and is already paying dividends.
The heavy lifting in 2021 planted seeds for growth in 2022. As we move through the next year and focus on the execution of our strategy, our unitholders will see these efforts continue to bear fruit. Our improved liquidity will allow us to be nimble and capitalize on new opportunities, while we continue to enhance our existing portfolio and execute on our capital market investment strategy, ultimately leading to meaningful long‐term growth of NAV per unit and improved value for unitholders.
Some Final Thoughts and Our Annual General Meeting
I know they say time flies when you're having fun, but it is hard to believe just how fast time has flown by over these past 15 months! Yes, we are having fun as we continue to harness the incredible opportunity that our owners have entrusted us with ‐ to transform Artis into something unique and compelling that does not exist in the Canadian public real estate market. I remember that when we announced our new vision and strategy last March, many were very excited while others were disappointed because they were hoping for a different plan. We chose the road less travelled because of our confidence and conviction that we could build something unique and valuable for our owners. We are grateful for and encouraged by those who chose to remain as owners and also welcome our new, more recent owners of Artis. It has been just over a year and we have come a long way during that time. As I said earlier, we are just getting started! We have an exciting journey ahead and I, alongside our Trustees and executives, am looking forward to engaging with as many of our owners as possible in the weeks and months ahead. This is something we are committed to doing – staying in touch and engaged with our owners. You have entrusted us with your capital and we will work hard and do our best to invest and manage that capital on your behalf so as to achieve strong returns and NAV growth for you.
This past year also saw significant change in the senior leadership at Artis. This included two exciting promotions within the organization. Kim Riley, formerly an Executive Vice-President, assumed the newly established position of Chief Operating Officer and Jaclyn Koenig, who was previously Senior Vice-President Accounting, became Chief Financial Officer. Kim and Jackie have been instrumental in shaping and influencing our accomplishments in 2021. They work hard, are very smart and have an unwavering loyalty to the organization. I admire their unique styles, perspectives and incredible work ethic. I would like to acknowledge them for their leadership and commitment to Artis, our owners and our team.
The global pandemic that began in 2020 has meant that, for the past two years, Artis has not had the opportunity to hold an in‐person annual general meeting. That is going to change this year, as things have started to reopen and the environment is evolving such that in‐person AGMs are possible again. Artis will hold its AGM on Thursday, June 9, 2022, in Toronto, Ontario. We hope that you will join us and look forward to meeting our fellow owners in person for the first time since most of the Board took office and I had the privilege of becoming your President and CEO. For those who are not able to make it in person, you will be able to attend virtually so you do not miss out.
We were able to accomplish all of the above, as well as the many other achievements, in 2021 thanks to the hard work of our team at Artis under the guidance of our Board of Trustees. As I said at the outset, we have been busy at work! I hope this letter explains what we have been up to and why. We still have a lot of work ahead of us and, as I like to say to members of our Board and our team, we are only getting started!
Let me close by sharing how exciting this past year has been for Artis and how optimistic we are about the year and years ahead. We have an ambitious plan and vision, but also have high conviction and optimism about what we are going to do. As always, we thank you for your support, confidence and trust and look forward to the journey ahead together.
March 21, 2022
Samir A. Manji
President and Chief Executive Officer